Trinity Church Historical Preservation – Through the Red Doors
Both past and future are important. This is why we engage in historical preservation for Trinity Episcopal Church. Our reconstruction work connects us to our past. This project builds the bridge from us to future generations.
Church is a place of solace. And, Trinity is a Church with a rich history. Pulitzer Prize nominee William Morgan says, "The country church tells us who we are. In doing so, it provides a sense of security, especially in times of crisis."
A visitor said, "…Built in 1902 the interior is all original. It is living history…it looks like a movie set. Trinity is bedecked with beautiful, personal touches added by her devoted members over the years."
In reference to our Rose (round) window (purchased by children's pennies) and another stained glass window she goes on to say, "I can't imagine the enormous undertaking of getting Trinity's stained glass all the way here from Europe. The thought of bringing that over these mountains, over a hundred years ago, gives me shivers. These windows add amazing color to the dark wooden paneling inside this church."
The Rose Window inscription reads: "Suffer Your Little Children Unto Me."
And she notices another detail, "The recessed aumbry is another one of Trinity's beautiful touches."
In the air there lingers a sense of possibility, spoken from this traveler who stopped at Trinity, fall of 2012, for a break from hauling her piano in her Penske moving truck along with her baby she calls simply, "J." She said, "Thank you, Father Keith, for entertaining my babe so I could get some pictures; and thank you for your hospitality and warmth while we were here."
She passed through our Red Doors on a brief visit and encountered Grace in the form of Father Keith and our Sacred Worship Space.
Yet, our holy work continues in this historical preservation project – of that we can be proud because Faith tells us that others will find this oasis of Grace. Trinity Church preservation project – provides a bridge to the next generation of Christians and a gift of Grace to all who pass through its Red Doors.
Construction underway in 1902: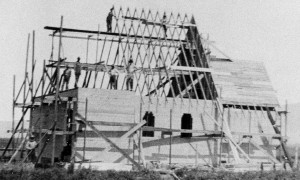 The East End Stained Glass Windows Being Re-framed: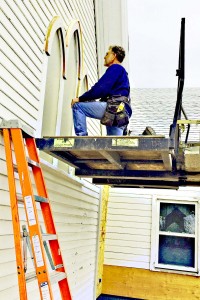 The West End Round Window Under Examination: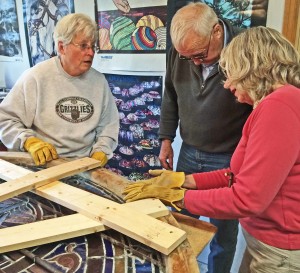 Stained Glass Window Under Repair: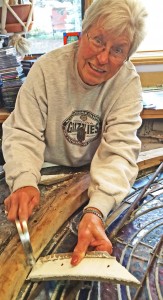 It Reads: "Suffer Your Little Children Unto Me."