Now in 2019, Youth Ministry is Available For All Ages and Activities Are Available With Youngsters During Worship Service Every Sunday Morning
Trinity Episcopal's current youth ministry supports Camp Marshall and its youth programs. Every year our church sends between 12 and 20 youth to this camp.  It is noteworthy that our parish sends more children to this camp than any other church in the state.  Contact us to find out about opportunities for your child or grandchild.
Father Keith and Pastor Wren with Trinity and Madison Valley Children,
October 2014, Before the Congregation,
Who Told Their Faith Experience from Camp Marshall, August 2014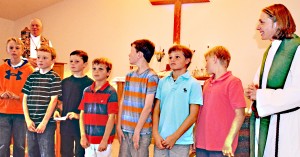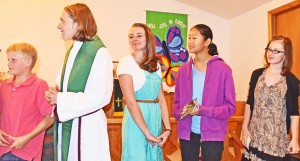 Camp Marshall
Camp Marshall, located on the beautiful Flathead Lake, is a 29-acre campus established in 1947, where campers enjoy a half-mile of contiguous shore line on the south shore of the Big Arm Bay.   At camp children explore and experience the Christian faith in action.  Camp ministers and leaders are carefully chosen to help each child grow in confidence and faith.  At the outdoor chapel children are invited to experience the Holy Eucharist.
Recreational activities including swimming, kayaking, fishing, sailing, and hiking, as well as games and evening campfires. Arts, crafts, songs, music, and skits offer opportunities to teach life skills and teamwork.
Returning campers share their excitement and stories at church, and it's fun to listen to their special memories. There's always a mention of their favorites activities.  Their eyes light up as they tell us about their wonderful week.  And it must be noted that all can't wait to return to camp next summer.
Grace Camp
During the summer one week is set aside for a special camp, known as Grace Camp.  This camp provides small group group activities and one-to-one counseling for children with at least one parent in prison.  This supportive camp allows children to explore their own lives with others and to grow in hope and grace.
Recreational activities are the same as at regular camp.
"At Camp Marshall, we grow in love for God and for God's world as we eat, pray, work, and play together.  We invite children, youth, and adults from the state of Montana and from around the world to share with us in life shaped by God's good gifts."   (Episcopal Church of Montana)