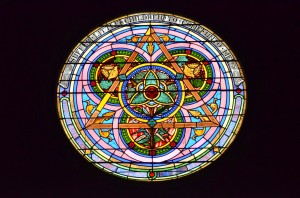 THE CHILDRENS' WINDOW
Story in two Parts:
First, the history – Our round window faces west and reads, "Suffer Little Children to Come Unto Me." Built in Germany during the early 20th Century, paid for with pennies collected by children of the Madison Valley, transported by ship, rail, and wagon to Jeffers – installed in 1902.
Taken down for repair in October 2014 being the second part with two dozen broken pieces replaced, new lead grout installed, with vertical support added to withstand  the force of gravity. Then cleaned and polished so that the hues of red, orange, blue and green shine upon worshipers. Reinstalled in November 2014, it is ready to carry us into the next century.
With faith in your heart, please consider joining us as we move
forward in faith into the future.
Trinity Episcopal Church was built solidly in 1902 on what the old timers called a, "rock-rubble foundation." In the spring, summer, fall of 2014, we rebuilt the foundation, added new siding, roofing, and Rector's office to commercial code which ensured relevance to our community for another 112 years.
This pre-modern country church combines a simple gothic-romanesque styly of architecture and offers an oasis of faith in a cacaphonic world so that we may walk our vision statement day-by-day. It provides an environment that supports "Strength for Service."
Our Vision:
To show Christ's love in our lives through worship, discipleship, and service.
 Our Mission:
As the body of Christ, the Congregation of Trinity Episcopal is individually and corporately called to live a life of faith in Jesus Christ through the power and guidance of the Holy Spirit. We will reach out in love—educating, baptizing, and equipping all members for ministry. We will use the gifts, talents, and resources of Trinity Church to implement in every way possible the Baptismal Covenant as stated in the Book of Common Prayer.
Our Question:
How are you embarked on a journey of seeking for God and keeping the quest alive?
One of our answers:
We work, day-by-day to reconcile our one-to-one relationships with family, friends, and neighbors so that as unique individuals in community we grow in Grace of the living Christ.